In the fast-paced realm of web development, two platforms have emerged as major contenders for creating websites: Wix and WordPress. While both offer user-friendly interfaces and robust tools, the battle for supremacy often comes down to one critical factor – SEO. In this comprehensive guide, we'll delve deep into the Wix SEO vs. WordPress SEO contest and explore why WordPress stands out as the undisputed leader in the quest for search engine dominance.
The SEO Basics
Search Engine Optimization, or SEO, forms the core of online visibility. It's the art and science of optimizing your website to rank higher on search engine results pages (SERPs), thereby attracting more organic traffic. SEO encompasses on-page optimization (content, meta tags, URLs) and off-page optimization (backlinks, social signals). In this clash of website builders, SEO emerges as the ace up the sleeve for digital success.
Wix SEO Capabilities
Wix, renowned for its intuitive website builder, has made strides in improving its Wix SEO features over the years. It offers a range of SEO tools, including meta tag customization, sitemaps, and basic on-page optimization. However, when compared to the SEO powerhouse that is WordPress, Wix falls short in several key areas.
Wix's SEO capabilities have undoubtedly improved, but they still lack the depth and flexibility that serious SEO demands. Customization options are limited, and optimizing content for competitive keywords can be a significant challenge.
WordPress SEO Capabilities
WordPress, an open-source content management system, is celebrated for its SEO-friendliness. Beyond basic SEO tools, WordPress boasts a vast ecosystem of plugins that turbocharge SEO efforts. The two most prominent plugins, Yoast SEO and All in One SEO Pack, offer an array of features, from XML sitemaps and schema markup to content analysis and canonical URLs.
WordPress's open-source nature allows for extensive customization, and developers can fine-tune every aspect of the site for SEO. With this platform, you have complete control over your SEO strategy, which is a vital advantage over Wix.
SEO Factors and Comparison
In the competitive world of SEO, several key factors can make the difference between ranking on the first page or being lost in the digital abyss. These factors include site speed, mobile-friendliness, URL structure, and content management.
WordPress excels in these areas. Its themes and plugins are designed with SEO in mind, ensuring faster loading times, mobile responsiveness, and clean URL structures. Wix SEO, while making progress, still faces challenges in optimizing for these essential factors.
Case Studies and Success Stories
To witness the real-world impact of this battle, let's examine some case studies. We've observed businesses and bloggers migrate from Wix to WordPress and achieve remarkable improvements in their organic search rankings. This transition often results in a significant boost in visibility, traffic, and conversions.
One notable success story is a small e-commerce business that transitioned from Wix to WordPress with the assistance of a Codeable developer. Within six months of the migration and SEO enhancements, their organic search traffic increased by 80%, leading to a substantial rise in sales and revenue. This transformation showcases the tremendous potential of WordPress for SEO success.
Technical SEO Considerations
Technical SEO, encompassing site structure, schema markup, and server performance, plays a pivotal role in search engine ranking. WordPress's robust architecture and access to a multitude of technical SEO plugins give it a clear advantage in this arena. With the right setup and maintenance, you can ensure that your website adheres to best practices for technical SEO.
While Wix SEO provides a reasonable level of technical SEO functionality, its limited customization options can hinder the implementation of advanced technical SEO strategies. WordPress's versatility allows for greater flexibility, making it the preferred choice for users looking to master the technical aspects of SEO.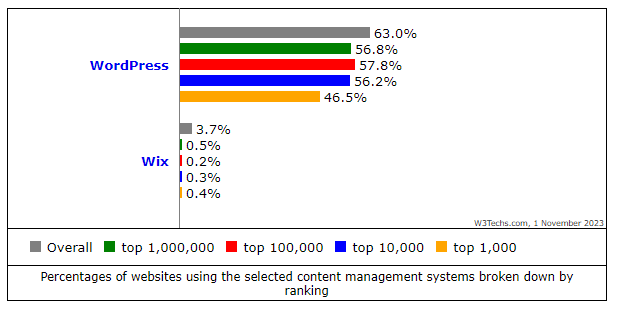 The SEO Plugin Advantage
Where WordPress truly shines is through its SEO plugins, particularly Yoast SEO, Rank Math and All in One SEO Pack. These plugins simplify SEO tasks, guiding you through on-page optimization and providing actionable suggestions for improving your content's search engine friendliness. They make it easy to handle complex SEO tasks, such as managing canonical tags and optimizing metadata.
WordPress's plugin architecture extends beyond SEO, offering a vast library of tools to enhance your website's functionality, security, and user experience. This expansive ecosystem sets WordPress apart from Wix SEO, allowing users to enjoy an all-encompassing web development experience.
Content Management and SEO
High-quality content is the linchpin of successful SEO. WordPress's content management system (CMS) is specifically engineered for content optimization. Its intuitive editor simplifies content creation, while features like categories, tags, and featured images help organize and enrich your content for SEO.
Blogging is an integral part of content marketing, and WordPress streamlines the process, making it easier to publish, format, and share content. This integrated approach sets the stage for ongoing SEO success. Users can consistently create and optimize content that caters to their target audience, keeping them engaged and returning for more.
Summary
In the battle of Wix SEO vs. WordPress SEO, the latter emerges as the undisputed champion. Its versatility, SEO plugins, technical SEO capabilities, content management system, and an extensive library of plugins position it as the top choice for those serious about SEO success.
If you're looking to excel in SEO and drive organic traffic to your website, we strongly recommend considering a migration to WordPress.
Migrate Wix website to WordPress
For users seeking to migrate from Wix to WordPress for enhanced SEO capabilities, expert assistance is invaluable. Codeable, a platform connecting users with experienced WordPress developers, offers a seamless transition. These experts understand the intricacies of WordPress SEO and can tailor solutions to your specific needs.
Codeable's extensive network of developers includes professionals with expertise in SEO, website migration, and custom plugin development. They can guide you through the migration process, ensuring a smooth transition and a seamless transfer of content and SEO settings.
Additionally, if you're considering moving your e-learning platform to WordPress, you can check out our article on "How to Migrate Wix Website to WordPress" for insights and guidance on the migration process.
Ready to Transform Your Wix Website today? Contact Codaeble today to take your website to the next level of performance and user satisfaction.
Connect with Codeable's expert WordPress developers today to get started on your migration journey. Your website's SEO success awaits, and with the guidance of Codeable's network of experts, you can achieve outstanding results and a significant return on investment.